ACEDC Revolving Loan Funds
Addison County Economic Development Corporation operates Revolving Loan Funds to help fulfill its mission of helping businesses in all stages of growth to retain and create good paying jobs in Addison County. 
ACEDC provides fixed rate loans to businesses of between $5,000 – $100,000. As loans are repaid, they are reinvested in the community by ACEDC in the form of new loans to other businesses. 
ACEDC is an equal opportunity lender, with funds available on a non-discriminatory basis.
ACEDC also works with other financial partners such as commercial banks, alternative lenders, and the Vermont Economic Development Authority (VEDA) to develop financing packages that meet the needs of growing businesses. 
Contact us: info@addisoncountyedc.org or (802) 388-7953.
 
ACEDC Revolving Loan Funds
ACEDC's revolving loan funds come primarily from the USDA Rural Development Intermediary Relending Program. ACEDC's loan fund is different from conventional lending programs because it can finance businesses that are having difficulty obtaining traditional financing due to the unproven nature of their business, their small size, collateral situation, or unconventional product line. However, ACEDC typically cannot be the primary lender. ACEDC provides gap financing. The borrower must have approached a commercial lender and been told that the bank cannot finance the project or cannot finance the entire project.
The first step is to contact ACEDC: info@addisoncountyedc.org or (802) 388-7953
Who Qualifies for ACEDC's Revolving Loan Fund?
Funds are available for both existing and start-up businesses. ACEDC works with local banks and other financial institutions, often serving as the "gap financing" piece to help meet the unmet funding needs of area businesses. Loans are available for a wide range of initiatives as described below. Any lender, including ACEDC, will require a business plan and business projections. If you need assistance to prepare a business plan and projections prepared, contact the VT Small Business Development Center advisor for Addison County: Sarah Kearns skearns@vtsbdc.org (802)771-5820.
What Can I Use ACEDC's Revolving Loan Fund For?
Loans must be used for community development projects, the establishment of new businesses, expansion of existing business, creation of employment opportunities, or saving existing jobs. The project must occur in Addison County.

Loans may be used for, but are not limited to:
Business and industrial acquisitions when the loan will keep the business from closing, prevent the loss of employment opportunities, or provide expanded job opportunities
Business construction, conversion, enlargement, repair, modernization, or development
Purchase and development of land, easements, rights-of-way, buildings, facilities, leases, or materials
Equipment purchases, leasehold improvements, machinery, or supplies
Pollution control and abatement.
Transportation services
Start-up operating costs
Feasibility studies
Working capital (long term)
What Are Ineligible Purposes for ACEDC's Revolving Loan Fund?
Loans from ACEDC may not be used for:
Lines of credit
Agricultural production
Refinancing existing debt (except in limited circumstances)
Golf courses or race tracks
What Are The Rates and Terms of These Loans?
Interest rates are fixed for the term of the loan. The rate for each loan is set by the ACEDC Loan Committee and based on consideration of current interest rates, the rates charged by the primary lender, collateral coverage, and other risk factors.
The term of a loan will vary depending upon the use of funds but are typically 3-10 years in length. Loans for real estate and building purchases may have longer terms.
ACEDC will finance up to 40% of a project, not to exceed $100,000. Typically, a bank or other lender (or a combination of other lenders) will finance 50% or more of the project. The borrower will be required to contribute some percentage in the form of owner equity.
A non-refundable $100 application fee is required at the time of application. If the loan is approved, a 1% commitment fee is required, and additional closing costs may apply.
How Do I Apply for a Loan?
If you have not already done so, contact Fred Kenney, ACEDC Executive Director (802-388-7953 or fkenney@addisoncountyedc.org). You must discuss your project with the Executive Director prior to applying. 
Once you have the go ahead to apply, go to the following URL: https://cloud.bmisw.com/AddisonCountyEDC.
Create a User Account, complete, and submit your application. Be sure to click "submit" when the application is completed. Loan applications cannot be considered by the ACEDC Loan Committee unless and until they are complete.  A nonrefundable application fee of $100 is due when the application is submitted.
As with other lenders, ACEDC's Revolving Loan Fund requires the development of a sound business plan clearly describing the business and the proposed use of the new funds. The plan should address the industry and its trends, the market, and the company's management and operations. Historical and current business and personal financial information is also required along with projected operating results. 
How Long Will It Take to Get A Loan?
Once your application is determined to be complete, a loan analysis is conducted and then the Loan Committee will meet to consider your request. If your loan is approved, a commitment letter will be sent to you to sign. Once we have received your signed commitment letter agreeing to the terms and conditions of your loan, our attorney will prepare closing documentation and we will arrange for your loan closing. Additional documents will be required of you prior to or at the closing, such as a Certificate of Good Standing and Insurance Binder. A relatively straightforward loan may take 2-3 weeks to close once we have your completed application. A more complex loan may take 3-6 weeks or more.
What If I Have More Questions?
If you have additional questions after you've reviewed the loan application, please contact Fred Kenney, Executive Director, at 802-388-7953.
ACEDC is an equal opportunity lender, with funds available on a non-discriminatory basis.
Funds for these loan programs have been provided by USDA Rural Development.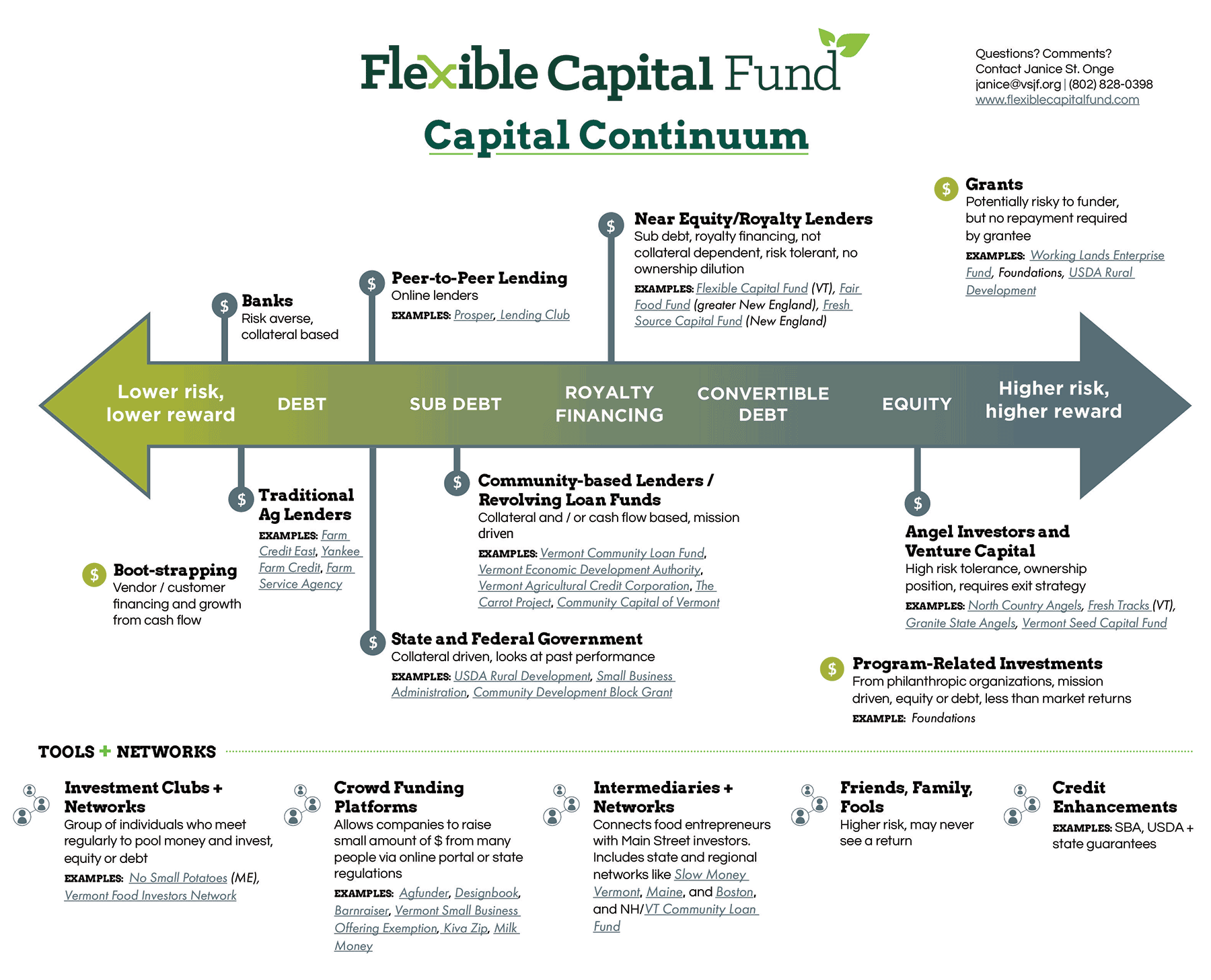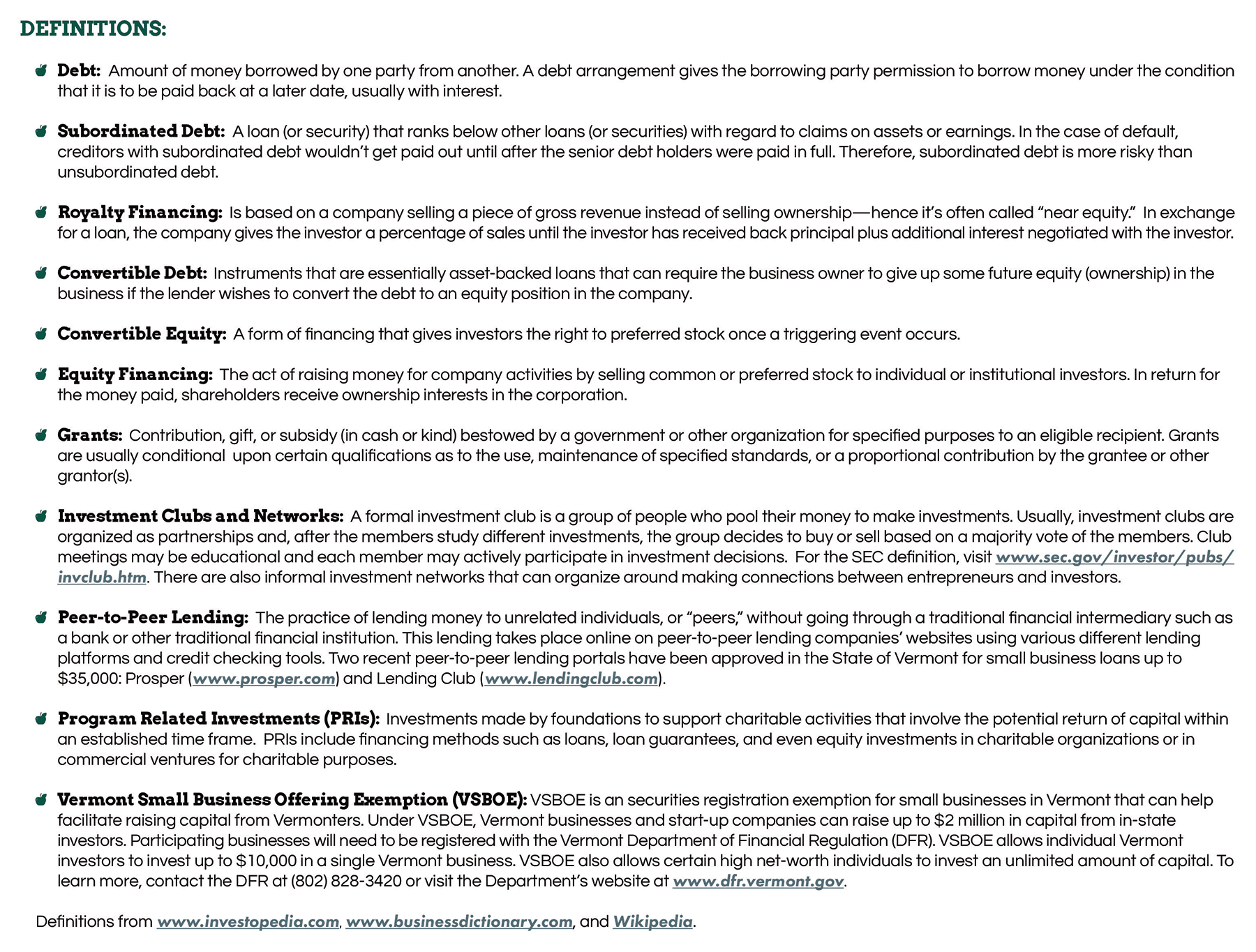 Great starts here!