About ACEDC
What We Do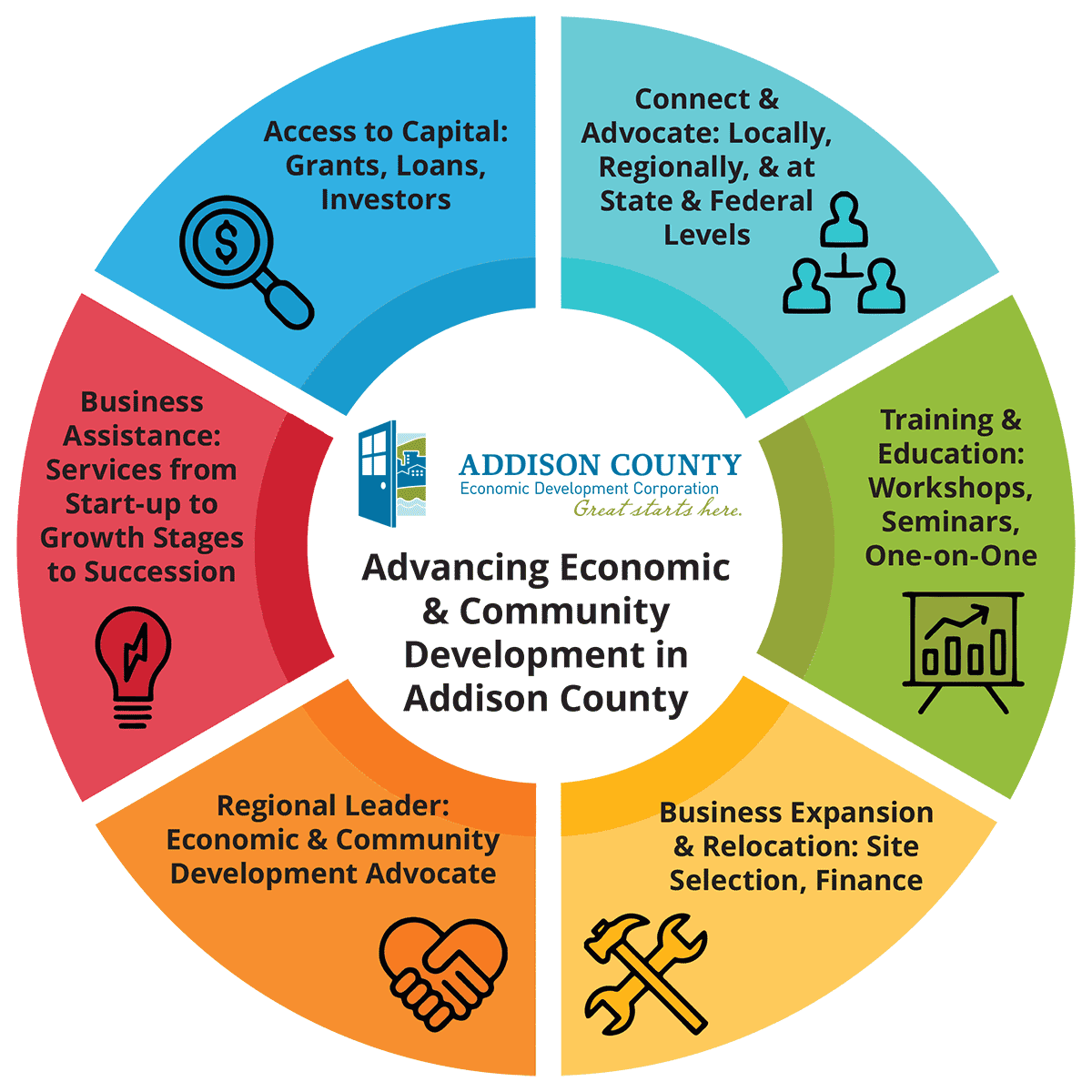 ACEDC is a 501(c)(6) member-based, private, not-for-profit corporation. The corporation is governed by a Board of Directors elected by the member businesses and organizations.
ACEDC activities are made possible, in part, by a grant from the State of Vermont through the Agency of Commerce and Community Development. Loan programs are made possible by USDA/Rural Development. 
ACEDC is an equal opportunity service provider and lender, with all services and funds available on a non-discriminatory basis.
ACEDC Mission
The mission of the Addison County Economic Development Corporation is to create an entrepreneurial and innovative environment, nurturing businesses to launch, grow, and thrive. 
ACEDC is dedicated to helping Addison County businesses from all backgrounds, at all stages, in all sectors and size to grow and create good-paying jobs. We offer services to individual business, assist groups of businesses, and work with business associations. We also partner with local, regional, state, and federal partners to advance community and economic development in the County.
ACEDC Activities
ACEDC serves Addison County by providing the following:
General business, non-profit, and municipal Information and resource distribution and referral
Comprehensive guidance, technical assistance, and advice to facilitate business/commercial and community growth, including:

Individualized assistance and referrals
Business workshops and trainings
Business visitation program

Business financing services

Business plan and projection preparation
Financing advising

Business expansion and relocation services

Site selection services and property tours
Property listings
Job listings

Access to capital through:

In-house revolving loan funds
Grant research, writing, application, and administration on behalf of partners, projects, and the region
Exposure to venture and equity capital
Exposure to commercial lenders

Convene and partner with regional, state, statewide, and federal partners to advance community and economic development 
Connections to local, regional, state, and federal officials
Business advocacy regionally, in Montpelier, and with Congressional Delegation
Click here for a list of specific services offered to all Addison County businesses and services offered exclusively to members.
As stated in the ACEDC bylaws, the corporation was formed for promoting the common business and economic interests of commercial enterprises in Addison County.
The purpose of this corporation is:
To promote the sound economic development of the Addison County area, consisting of all the municipalities in Addison County, except Granville and Hancock, and to work with federal, state, and local governments, commissions, private organizations, businesses, and private individuals to obtain that goal;
To coordinate public and private efforts directed toward the expansion, retention, attraction, encouragement, financing, and development of desirable private industry in Addison County; and to assist businesses in dealing with governmental agencies, commissions, and boards, to expedite the compliance with federal, state, and local regulations;
To foster, encourage, and assist in the physical location of new businesses and expansion of existing business enterprises within the area;
To encourage and help the agri-business community through all available avenues;
To cooperate with existing local development groups to attain mutual objectives;
To accept financial support and enter into financing arrangements for the furtherance of ACEDC's objectives, as prescribed by the By-Laws; and
To perform any other lawful act appropriate to the furtherance of the corporate purpose.
A Brief History of ACEDC
The Addison County Economic Development Corporation (ACEDC) was officially chartered on November 8, 1991 as a 501(c)(6), not-for-profit Vermont corporation. ACEDC evolved out of Addison County regional economic development activities that formally began with the chartering and start-up of Otter Creek Development Corporation (OCDC) in 1985. OCDC represented all Addison County towns, with the exception of Hancock and Granville. ACEDC was initially a wholly owned subsidiary of the Addison County Chamber of Commerce. It became a freestanding corporation in July 1994 and is now one of 12 independent regional development corporations throughout Vermont.
In 1993, ACEDC was one of five regional development corporations to receive a $200,000 grant to create a Revolving Loan Fund (RLF) for Addison County businesses. ACEDC has since been the recipient of additional USDA/Rural Development loan funds in 1995, 1998, 2009, and 2021. ACEDC has loaned over $5,000,000 to 120 projects to support business creation, growth and expansion and to retain and create hundreds of jobs. These loan funds continue to revolve to support new start-ups and business expansion. 
ACEDC also received a special state appropriation for a Champlain Bridge Loan Fund to support businesses that were negatively impacted by the closure of the Champlain Bridge on October 16, 2009. All except one of those loans are closed.