Middlebury College

Middlebury College & the Community
Middlebury College Center for Careers and Internships
The Center for Community Engagement
The Middlebury College Center for Careers and Internships
Middlebury students, staff, and faculty are making significant contributions in Addison County and beyond to promote a robust economy and skilled workforce, a just society, a healthy population, a "green" environment, equitable access to excellence in education, and a vibrant Vermont arts and cultural scene.
Middlebury funds approximately 150 internships (primarily summer but also during winter term and semesters) annually in Vermont. Students receive grants in the $3,000-$4,000 range. Middlebury's Experiential Learning Centers—the Center for Careers and Internships (CCI), the Center for Community Engagement, and the Innovation Hub—play an especially significant role in this work with curricular and co-curricular initiatives.  
The College's work in Addison County and Vermont is on a multitude of fronts, involving key on- and off-campus stakeholders, employers, nonprofit organizations, local and state government, economic development groups, etc. This summer, the college is launching two new internship programs: MiddWorks for Vermont and Vermont Innovation Summer.
A critical goal of these Vermont initiatives is to foster internship and career opportunities in every sector for the Middlebury College student and new graduate, thereby encouraging and facilitating Middlebury talent to remain in Vermont during summers, after graduation, and beyond. There is enormous potential to generate an increasingly focused strategy that encourages meaningful and deep connections to Vermont as a place to settle and to have a high quality of life while finding rewarding and purposeful work.  
Past Addison County internships funded by the Center for Careers and Internships include:
Middlebury Regional Emergency Response Services
Maple Broadband
Eastview
Town Hall Theater
Open Door Clinic
Vermont Community Foundation
The Yellow House
Addison County Community Trust
Middlebury New Filmmakers Festival
Addison County Teen Center
Climate Economy Action Center
Middlebury Area Land Trust
Addison Independent
Lemon Fair Insect Control District
Town of Middlebury Planning and Zoning
Middlebury Community Music Center
Better Middlebury Partnership
…and many more.
For more information on posting an internship in Handshake, CCI's opportunities data base, please contact CCI Executive Director Peggy Burns at mburns@middlebury.edu.
Levi Gavette '22, Middlebury Regional Emergency Medical Services

Fyn Fernandez '22, Maple Broadband
 

Brooke Laird '22, Middlebury Area Land Trust

Sam Chester '21.5, Lemon Fair Insect District Control
The Center for Community Engagement
The Center for Community Engagement (CCE) works to strengthen communities and contribute to the public good by connecting Middlebury College students with local nonprofits and service agencies. This work is fueled by their strong, reciprocal relationships they build with community partners.
CCE engages students in a variety of ways:
20 student-led organizations that engage over 425 students and collaborate with over 50 community partners in issue areas including education access, nutrition, healthcare, housing, environmental conservation, immigration justice, and dis/ability access.
Privilege & Poverty Academic Cluster (P&P) is a learning community through which students explore the causes and consequences of economic inequality through coursework and discussions, and then pair that knowledge with a hands-on summer internship with organizations in Addison County and around the country working to address economic inequality in their communities.
Language in Motion is a staff-directed program that connects Middlebury students with local K-12 educators to develop curricula and activities that build and inspire global awareness, curiosity, and intercultural competence.
CCE sends Middlebury College students weekly updates about upcoming and ongoing volunteer opportunities in Addison County. You can submit a posting to this newsletter here.
The Center for Community Engagement recently launched a platform called Middlebury Liberal Arts in Action (MLAA) that facilitates reciprocal relationships between Middlebury students, faculty, staff, and community partners. MLAA allows local nonprofits and service providers to collaboratively address short- or long-term needs or goals while encouraging student learning and reciprocally beneficial relationships. Check out MLAA to search for partnership ideas with Middlebury College faculty and students, submit a partnership idea, explore resources and examples partnership projects, or schedule a consultation with the MLAA team at the CCE!
For more information on how you can collaborate with students, faculty, and staff, email communityengagement@middlebury.edu.
"I am part of a community that is bigger than the college. I feel accepted and appreciated by a different demographic than I am used to and that has meant the world to me." -Janice Zhang '21
"I really love connecting with members of the Middlebury community… It is so heartwarming to see all of the dedicated individuals giving some of their time to such a great cause." -Emily Carfi '21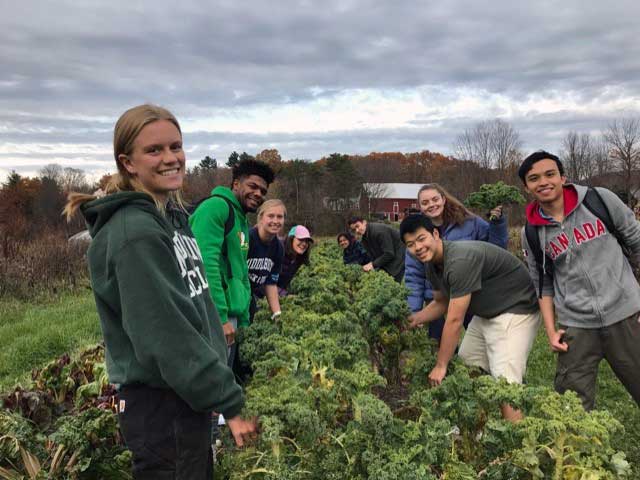 Students in the CCE's Fall 2021 Community-Connected Learning course glean potatoes at HOPE.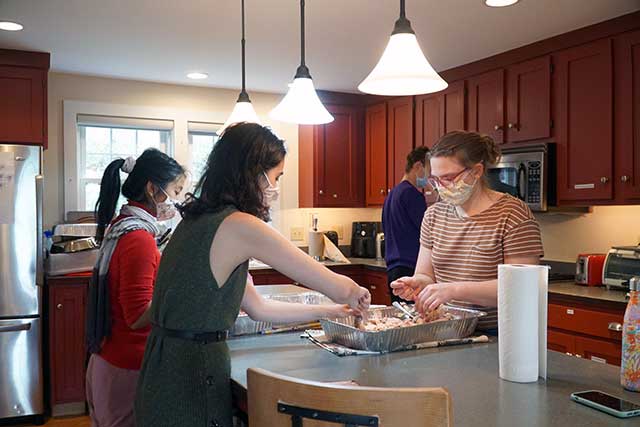 Students who are part of the Charter House Coalition student organization cook and deliver meals for Charter House each week.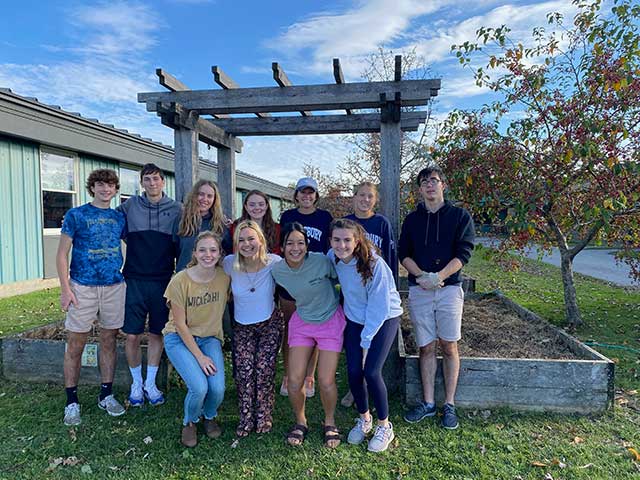 The student organization Nutrition Outreach & Mentoring (NOM) works in the community garden at Mary Hogan Elementary, providing access to fresh and healthy food.
Oratory in Action
Want help getting the word out? 
 
If you're a Middlebury/Addison County organization (for-profit or non-profit) working to get a message to a target audience, here's a special opportunity: 
Partner with a service-learning course at Middlebury College, called Oratory In Action. Each semester, teams of college students run communication/presentation workshops for local organizations. Students in the course will work with you to custom design workshops that enable staff and volunteers to improve both online and in-person presentations. The goal is to measurably optimize internal and external communication, such as meetings, pitches, marketing, events, social media, videos, and organizational storytelling/branding. 
Recent projects include workshopping recruitment videos and research presentations, online trivia social events, as well as interview prep and fundraising support.  
Time Commitment: Roughly 1 hr per week for 8 weeks.
"I wish I could give a higher rating than "very satisfied" for the professionalism of the students! It can be difficult to get field staff engaged in projects which take them away from their work. The students made this activity very worthwhile for our employees and they were all happy to participate. Thank you for this opportunity!" -OIA Community Partner 
For more information, reach out to Ben Powers, Oratory In Action Instructor
Oratory In Action, INTD 0115 
bpowers@middlebury.edu 
802-734-0590