Civil / Site Project Engineer
Otter Creek Engineering
East Middlebury, VT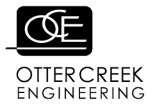 Otter Creek Engineering is seeking a full-time Civil/Site Project Engineer. This position requires a degree in civil engineering and preferably four or more years of experience in design, consulting, or construction work. The ideal candidate will help forward OCE's mission to make its clients successful by delivering practical, innovative solutions.
Principal Duties and Responsibilities:
Ability to lead land development projects through local and state permitting processes,
Design of site design, municipal water lines, storm & sanitary sewer, underground utility design, and other general civil engineering projects,
Roadway and multi-use path design and construction,
Production of plan sheets for the above-mentioned projects,
Use of Pipe and Pressure Networks in AutoCAD Civil 3D,
Prepare Hydrology and Hydraulic calculations,
Coordinate aspects of design with other technical staff,
Attend meetings and provide presentations on projects,
Generate Reports and Technical Memos related to design and calculations,
Use of design criteria and guidelines, such as:

Municipality specific Engineering or Design Standards
NRCS Standards and Specifications
Industry & Manufacturer design guides
VTrans Project Development (MAB)
Qualifications
B.S. in Civil Engineering or related field,
Vermont Professional Engineering (P.E.) license in civil engineering or related field or ability to obtain in the first year of employment,
Organized, fast learner, and interested in the details,
Executes well-defined technical and engineering tasks,
Strong familiarity and working knowledge in the use of AutoCAD or similar design software with interest to expand CAD knowledge base,
Self-review of work and understanding of review by fellow engineers,
Produce deliverables such as plans, specifications, or reports,
Strong written and oral communication skills via emails, phone, and in-person,
Excellent client service skills for design meetings, coordination with other consultants, and the client,
Ability to coordinate and schedule other subtasks,
Valid Driver License,
Able to conduct site visits over varied topics during construction, and
Strong desire to live, work and play in central Vermont.
Additional Preferred Qualifications
Willingness to represent OCE positively in the industry and local community,
Desire to provide exceptional customer service and become an integral part of the overall OCE team,
Construction project administration and oversight experience,
Master's degree in civil engineering or related field,
Surveying experience,
GPS/GIS experience,
On site wastewater treatment design,
Municipal engineering experience,
An active member of relevant professional organizations,
Demonstrated initiative and participation in community involvement and outreach,
Software experience/proficiency,

AutoCAD, esp. Civil 3D
Hydrologic modeling software (HecRAS, HydroCAD, or similar)
Benefits/Compensation
Salary Commensurate with Experience
Medical Insurance for You and Your Family
Paid Vacation and Sick Time
In-House and External Training
Industry Memberships and Conferences
Mentoring and Annual Reviews
Profit-Sharing and 401k Match
Hybrid Remote and Office Workplace Environment
Company Outings, Activities, and Parties
Please email a .pdf of your resume with a cover letter in the body of the email to Rakowski@ottercrk.com and Pease@ottercrk.com
Location
404 East Main Street
PO Box 712
East Middlebury, Vermont 05740