Careers at Porter Medical Center
UVM Health Network - Porter Medical Center
Middlebury, Vermont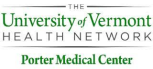 Porter Medical Center currently has positions available in multiple areas with hiring bonuses available for many positions. Please click the "Apply for this position" box for a searchable list of opportunities.
UVM Health Network – Porter Medical Center is proud to offer advanced technology and high quality, compassionate care provided by top-notch professionals and physicians.

Located in Middlebury, Vermont, Porter Medical Center comprises a 25-bed acute care facility, a 105 bed skilled nursing facility which includes a memory care unit, short-term rehabilitation unit, and a long-term care unit. Porter operates a network of primary care and specialty medical practices throughout Addison County and the town of Brandon, as well as an infusion center and "Porter ExpressCare". Porter Medical Center is an affiliate of The University of Vermont Health Network.
Location
Positions are available at Porter Medical Center's Skilled Nursing Facility, Hospital, and Outpatient Clinics in Middlebury, Vermont.