Join the CSAC Board of Directors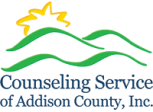 Be a part of something big! Consider joining the Board of Directors at the Counseling Service of Addison County (CSAC), Addison County's designated mental health and developmental services agency.
We are currently looking for four new Board members. We welcome applications from anyone in our community who is passionate about CSAC's mission and shares in our values of empathy, dignity, and collaboration. Because CSAC is committed to dismantling institutionalized racism and seeking justice for historically disadvantaged groups, Board members are also asked to be willing to deepen their understanding of these issues and assist with re-evaluating our practices accordingly.
In particular, we are seeking community members who have personal, professional, and/or volunteer experience in one of these areas: medical; legal; human services; public/private K-12 education; diversity, equity, and inclusion; executive leadership; entrepreneurship; community organizing; compliance and risk; and change management. Even if you do not have experience in these areas, we encourage you to consider applying with any experience you feel will complement our mission. 
We have a fund to support board members whose personal finances might otherwise present a barrier to their participation. Lost wages and expenses incurred during board services, such as childcare and transportation, may be reimbursed. 
To learn more about CSAC, the board's role, and how to apply, please visit: https://bit.ly/31xckOp