Bread Loaf Corp. Wins 2017 AGC/VT Award
Bread Loaf Corporation Honored for Outstanding Work in the Construction Industry
Glenn Lavoie, AGC/VT President; John Johnston, Vice President of MEP Services, BLC; Fed Bellucci, Vice President of Estimating, BLC; John Dale, Architect, BLC; Rob Zimmerman, Senior Estimator, BLC; Mike McLaughlin, President, BLC; Cathy Lamberton, AGC/VT Executive Vice President.
Addison County Economic Development Corporation (ACEDC) member Bread Loaf Corporation (BLC) was recently awarded the 2017 Association of General Contractors of Vermont (AGC/VT) Honor Award for the University of Vermont Alumni House and Jack & Shirley Silver Pavilion Project. Fellow ACEDC member Otter Creek Engineering provided civil engineering services to the project.
BLC's team of designers and contractors were honored for the design, interior restoration and expansion of the former Edward Wells house, a grand Queen Anne Style mansion located at the corner of Maple and Summit Streets in Burlington VT. The 15,000 SF structure was restored for use as the new headquarters of the UVM Alumni Association. Renovations included conversion of the first and second floors into public reception and meetings rooms and accommodation of 4,000 SF of modern office space. Adjacent to the Alumni house, the new 6,000 SF Jack & Shirley Silver Pavilion was designed and constructed by BLC to provide a state of the art conference and reception facilities. In addition the entire 2 ½ acre site was redesigned and re-landscaped.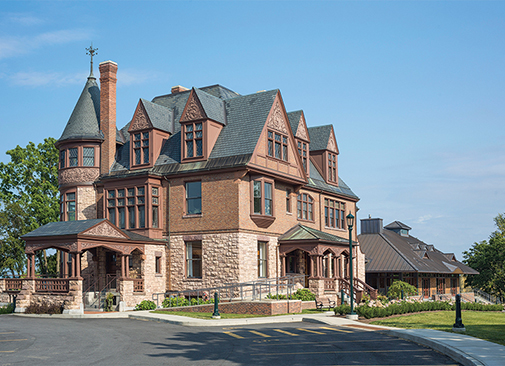 Alumni House and Jack & Shirley Silver Pavilion
After a competitive proposal process, the University of Vermont and the Alumni Association awarded BLC the project to restore the house and grounds to their former elegance, install modern, energy efficient systems, make the facilities completely accessible, create a banquet/conference facility for 200 people and achieve LEED Silver Accreditation. The project required the complete gutting of the building interior, the installation of all new mechanical and electrical systems, and the insertion of a new 4 story elevator/stair core within the building structure. The team seamlessly integrated the modern systems into the historic fabric of the elegant interiors. Carpenters and painters meticulously repaired, refinished and, where necessary, replicated the elaborate wood and plaster moldings, paneling and carved details. Many of the original light fixtures were repaired and restored by a local studio, and original doors, windows and hardware were preserved and reused.
The Wells House has been reborn as the Alumni House, a vibrant center for student and alumni activities and receptions on campus. The new Jack and Shirley Silver Pavilion provides an elegant counterpoint to the grand mansion. Restored gardens and landscaping gracefully link the Alumni House and Silver Pavilion with the adjacent Grasse Mount Mansion creating a beautiful compliment to the University of Vermont Campus and Burlington.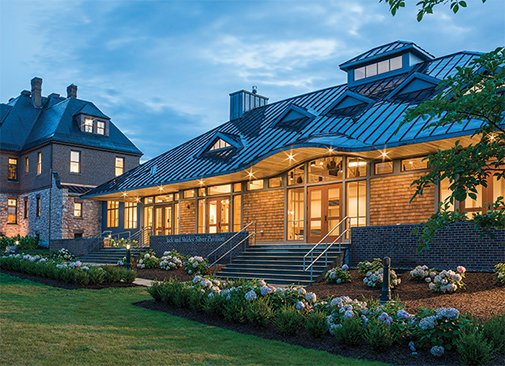 Jack & Shirley Silver Pavilion
The project team included: the University of Vermont Alumni Association; University of Vermont Facilities & Planning Department; Bread Loaf Corporation provided Architectural, Planning and Construction Management services; Engineering Ventures, Structural Engineer; Otter Creek Engineering, Civil Engineer; Cx Associates, Commissioning agent; Engineering Services of Vermont, Mechanical/Electrical Engineer; Linda Sampter, LEED Administrator.